WVON-AM 1690 Goes 24 Hours!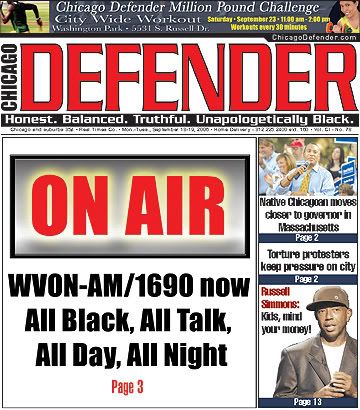 After 43 years of broadcasting from 10pm until 1pm (no afternoon, no evening programming) WVON-AM Chicago moves to a 24 hour format starting September 18. Along with the expanded hours, Chicago's only Black Talk Radio station increases power from 1000 to 10,000 watts, now broadcasting to listeners throughout the entire Chicagoland area.
This is great news for Black Chicago. Here's the spin from Chicago's legendary
Defender Newspaper.

I called in this morning to say Congrats, and to denounce some victimology.
I told my wife about it, and SHE agreed with me. That's a first!
Ooooooooo it felt good.
Clik da pik, visit their bogus site. (Great station, bogus website.)
or
LISTEN LIVE.